If the August 26 bout between Floyd Mayweather Jr. and Conor McGregor matches the fighters' trash talking Tuesday, boxing fans could be in for a real treat next month.

Facing up like snarling jackals in front of over 10,000 people at the Staples Center in Los Angeles, the two men went toe-to-toe trading insults. At times it felt more like a Christmas pantomime, though an x-rated pantomine of profanity at that.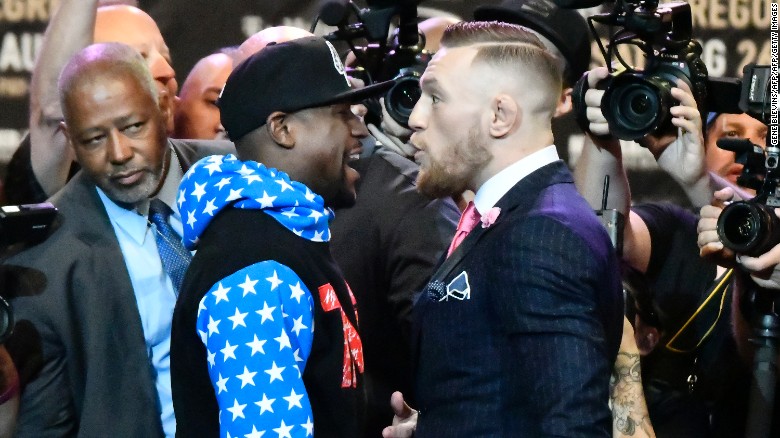 Reigning UFC lightweight champion McGregor promised he'd knock out his opponent inside four rounds -- this despite having no professional boxing experience.

Mayweather, undefeated in 49 professional fights over the course of 21 years, admitted his best days are behind him but insisted he'd knock the Irishman down like a bowling pin.

This has never just been about a boxing match between two fighters from completely different disciplines and it seems the world just can't get enough.
UFC president Dana White and the 28-year-old McGregor were the first to enter the stage.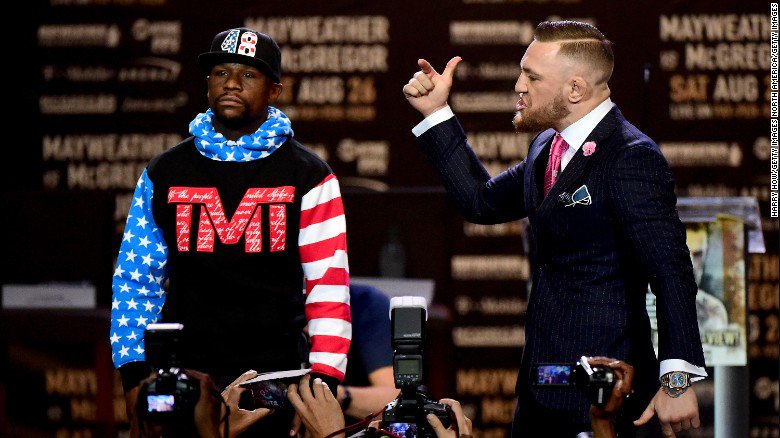 "Baby, we did it!" pronounced the Dublin-born fighter, dressed in a sharp pinstripe suit as he reveled at the prospect of a clash that's been dubbed the "billion dollar" superfight, though Forbes has described that as being a "very generous" estimate of the bout's value.

Those at the back of the venue in downtown LA might not initially have noticed the finer details of the suit's embroidering, but McGregor was quick to put them in the picture.

"How's this suit look?" he laughed. "It's a cracker. If you zoom in on the pinstripe, it says F**k you."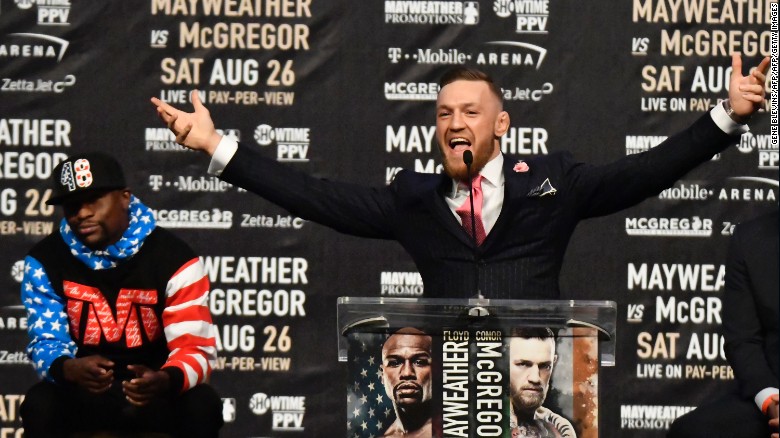 McGregor then contrasted his own sartorial elegance with Mayweather's decision to wear a tracksuit to their face off.

"He can't even afford a suit anymore," said McGregor. "His little legs, his little core, his little head. I'm going to knock him out inside four rounds, mark my words."

Mayweather remained calm throughout McGregor's tirade of verbal jabs, nodding his head and appearing close to boredom.

Perhaps the American was contenting himself with the knowledge that if McGregor had arguably won round one of their verbal jousting the 12-time world champion has been installed as the heavy favorite for their August bout..

"21 is the number," said Mayweather. "Why? Because that's how long I've been kicking a***."